no gradient 2.0 Debuts at the World Series of Poker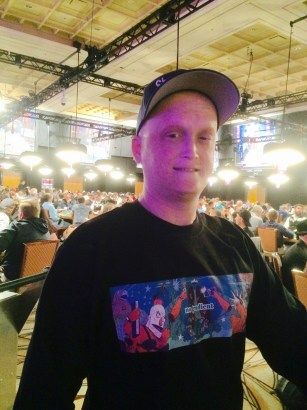 Justin Dunn- previous podcast guest– debuts the new no gradient look as he competes in the 49th annual World Series of Poker No-Limit Hold'em Championship in beautiful, hot, transactional, Las Vegas, Nevada. Qualifying by winning a smaller tournament, he has survived day one and starts today with 16.5k in chips. We talked game plan and he is in full predator mode telling me "I need to steal what's on the table before anyone puts any money in by getting them to fold when I sense weakness." With a short stack, not being aggressive will simply bleed him dry, it's all in or fall in.
Logan Faerber is the creative genius and illustrator behind the new look, wrapping it up just in time for the shirt to get shipped out to Justin. He recently started his own design firm, Clade Design, and if you need work done, look no further.
You will see the new look rolling out as the podcast album art and on Twitter, Instagram, YouTube, Patreon, LinkedIn– wherever no gradient is found.
Update: J Dunn went for it and was knocked out on his second day of competition. Best believe no gradient will be sponsoring him next year.